X-Men: Gold #20
Writer: Marc Guggenheim
Penciler: Diego Bernard
Inker: JP Mayer
Colorist: Frank Martin
Letterer: VC's Cory Petit
Cover Artists: Ken Lashley & Federico Blee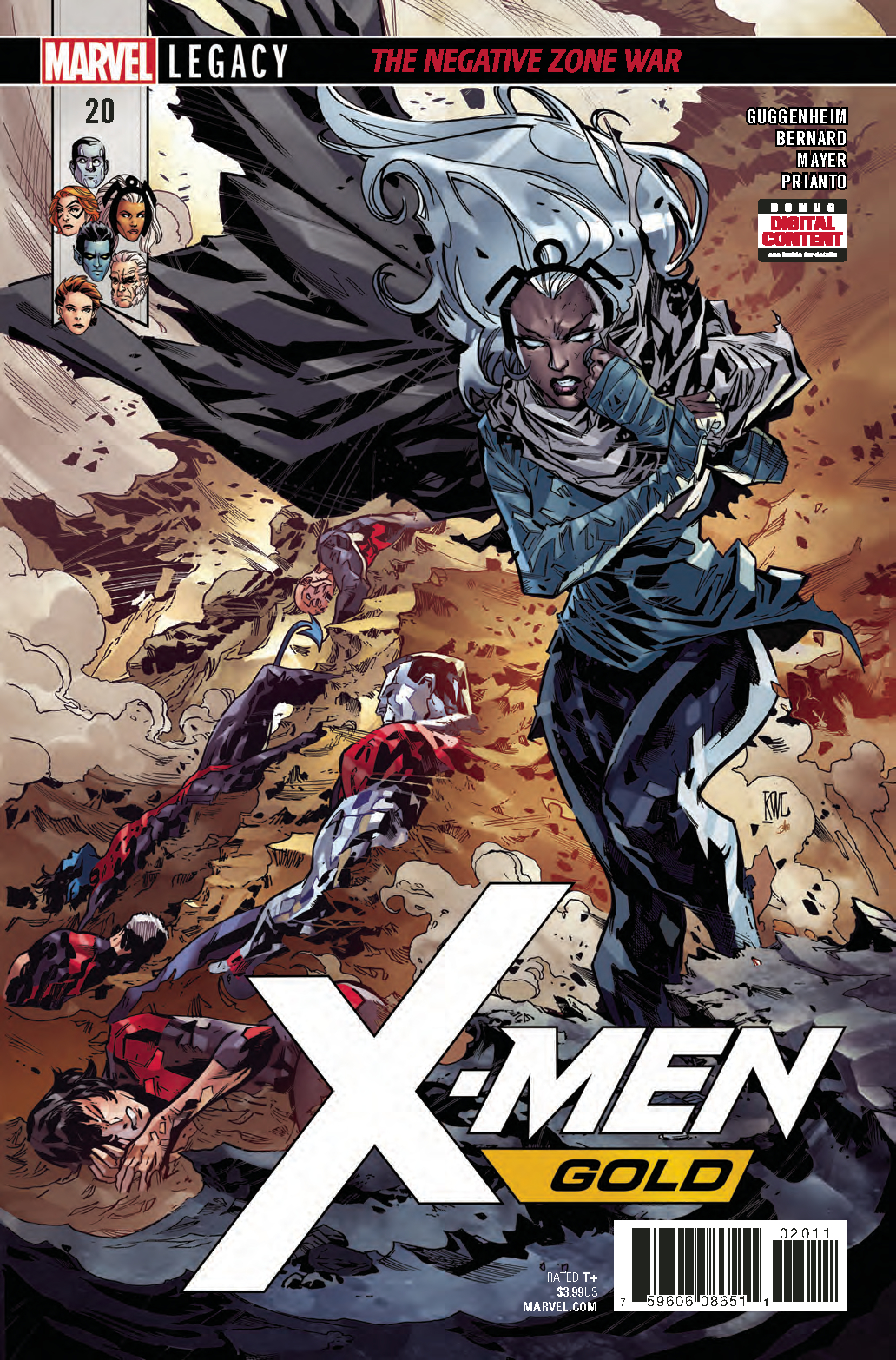 What you missed:
After Kitty and Nightcrawler were taken by evil space mutant Kologoth to his home planet, Logan, Colossus, Ink and Armor headed out to save them. Although they get Kitty and Kurt back and take out Kologoth, he raises the God Scythian to destroy the planet before he dies. Unable to beat him head on, the X-Men use a spaceship to drag him off planet to the void at the center of the negative zone. While they succeed they lose control of the ship and crash on an unknown planet.
Breakdown:
We start off with the X-Men scattered and battered on a desert planet. In the desert around the ship Storm is facing down a crazy alien beast while Kitty is tries to keep the wounded Peter conscious, and in the wreckage of the ship Ink helps out Kurt while Logan wakes up Armor in a less then gentle manner. We get Storm being a badass without using her powers and Kitty and Peter having some emotional moments, but before long the entire group is reunited. Then after some tech work from Kurt and a power boost from Storm they're finally on their way home! But the real drama comes when they get home SPOILERS BELOW
Previously Peter kind of proposed to Kitty, saying he didn't need an answer right then but that was his intention. But after their trip to the negative zone Kitty is ready, flips it back and proposes to Peter!
Thoughts:
Well obviously the biggest thing about this issue is the engagement. Peter and Kitty, an X-Men relationship that spans decades and is waaaay too complicated to sum up here, and has a lot a supporters and fair share of haters in that time. I am personally a fan of it, though not a die hard, and it certainly works better than her and Starlord. It's not entirely unexpected since Guggenheim has been all about the classic X-Men feel and what better way to do that then to bring back everyone's favorite relationship? It's an effective if a little cheap way to get everyones nostalgia flowing.
As for the rest of the issue, it's basically filler for the Kitty and Colossus moments, though Storm gets a couple pages to shine. On reflection it feels like this applies to the entire arc as a whole. While Ink got a bit of time to shine but it felt like Armor was wasted a little bit and we're kinda left hanging on whats going on with Prestige. But even with a surprise engagement it still a classic X-Men feeling book that doesn't branch far out of the usual. Good but not great.