X-Men: Gold #22
Writer: Marc Guggenheim
Penciler: Diego Bernard
Inker: JP Mayer
Colorist: Arif Prianto and Java Tartaglia
Letterer: VC's Cory Petit
Cover Artists: Dan Mora and Juan Fernandez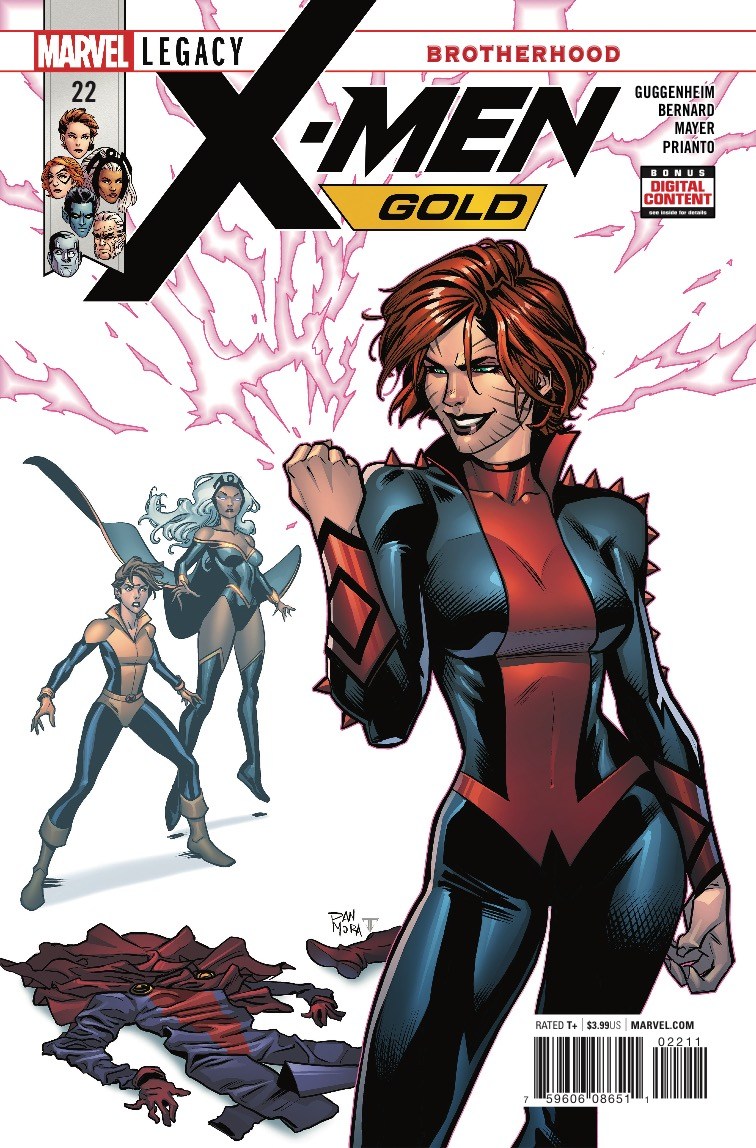 What you missed:
The brotherhood of Evil mutants is back, led by Mesmero and a new Pyro and Avalanche, and they're out for revenge. Attacking a fundraiser hosted by the anti-mutant activist and one time boss of the brotherhood Lydia Nance forcing Kitty to fight them with an understaffed team. It quickly gets out of hand leaving the team incapacitated and Kitty in dire straits…
Breakdown:
We start off with a flashback to Lydia Nance's past for some reason. Then we're back to the X-Men who were only pretending to be knocked out and on Kitty's signal, attack the Brotherhood back. But just when they get the upper hand, a nanobot sentinel, Red Omega, the X-cutioner and Sebastian Shaw, or all the people the team have fought so far come to Mesmero's aid. But as they lay the beatdown it's revealed that this is nothing but Mesmero's tricks and they're actually fighting a SWAT team, getting themselves placed under arrest! As Kitty sits in lockup, Jen Walters(aka She-Hulk) lets her know that while they wait to clear the X-Men's name at the trial, they're stuck in jail.
And it turns out that something from the negative zone isn't as taken care of as the X-Men thought!
Thoughts:
An ok, but not good issue in my book. I liked the new Brotherhood and Pyro growing a conscience, but for all the hype about the new prestige, she's done nothing but get her ass kicked twice, and I really hate to see the X-Men give up to a swat team. They have guns, Colossus and Kitty can walk away, Storm can fly and Kurt could have ported out with prestige. Peace! Sorry about the mix-up, take it up with our lawyers! I think there was probably a better way to get them in jail to set up the next arc than that.
But the art is solid, while I have complaints about the story it's not bad, I like the new Brotherhood, and the X-Men in jail is a fun concept, so I can forgive how they get them there a little bit.
Lets just hope they do something great with it!