Justice League/Aquaman Drowned Earth #1 (of 2)
Written By: James Tynion IV
Art by: Howard Porter

Color Artist: Hi-Fi
Letterer: Tom Napolitano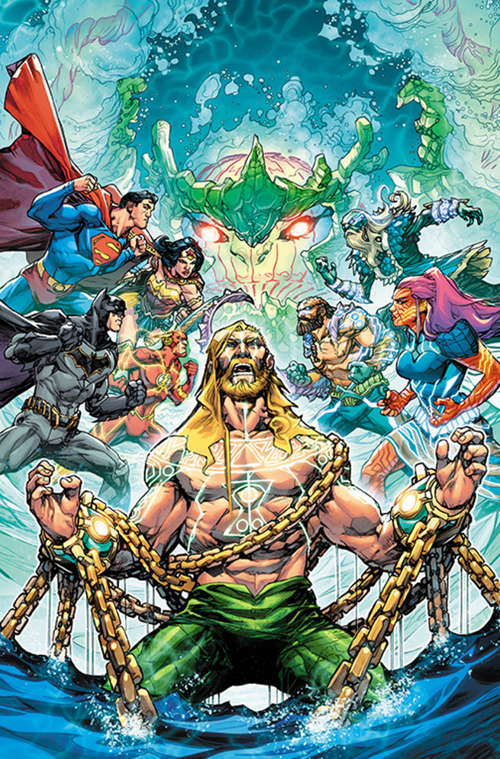 The Drowned Earth crossover really kicks off with this first bookend title (issue 2 will end the crossover). The Ocean Gods, that were imprisoned, now have the upper hand as the entire Earth is flooding. The mystical waters drowning the Earth is turning everyone into sea monsters (looking like The Creature from the Black Lagoon). In this issue, a lot of the story beats are explained and stakes are raised.

The Story
Cosmic Ocean Gods invaded Earth, a long time ago, and were imprisoned. Now that they have been released they are drowning the Earth. The Justice League team up to try and save as many people as possible, as they watch their home cities become lost underwater. Aquaman is currently trapped on The Blood Reef and prisoner to the Ocean Gods. It is finally discovered where these Gods come from and what their greater plans are. This is a story full of exposition with a few twists and turns and unexpected events. This is not a comic where anything goes right for the heroes.   

Tim's Thoughts
The general beats of the story are very interesting. If I were to sit down and explain what happened in this comic, there is no doubt you'd be intrigued. The problem lies in Tynion's execution. This comic is full of exposition, and everything seems to be explained to death. I am unsure if it was the oversized issue that padded the story, or if it was having a short event (done in November) that made the writer feel like he needed to cram so much in. There are excellent moments featuring Batman and Superman trying to save their cities. Black Manta's part in the story is a great turning point and had me excited to see what will happen next. But, reading this issue as a whole was a bit of a drag. There is a great story that was blown up a little too much.
Howard Porter is responsible for my favorite Justice League run ever, with Grant Morrison. I was really excited to see his name on the cover here. His art is known to be dynamic and fun. For the most part, this is what we see here. Whenever there is action on the page the art shines. However, there seems to be an issue with the way he draws the emotional moments, and every time a character is not in costume. The faces look slightly off, and it is not just Porter's typical cartooning style. There is exaggeration in the faces, especially in the eyes, that just seems out of place with the rest of the work he has done in the comic. I actually picked up my old JLA issues to see if he always drew this way, and I can clearly say this is something new. There is nothing poor about the art, it is just a little off. Much like the writing, it is great moments hampered down with some larger issues.