Justice League #11
Written By: Scott Snyder
Art by: Francis Manapul

Letterer: Tom Napolitano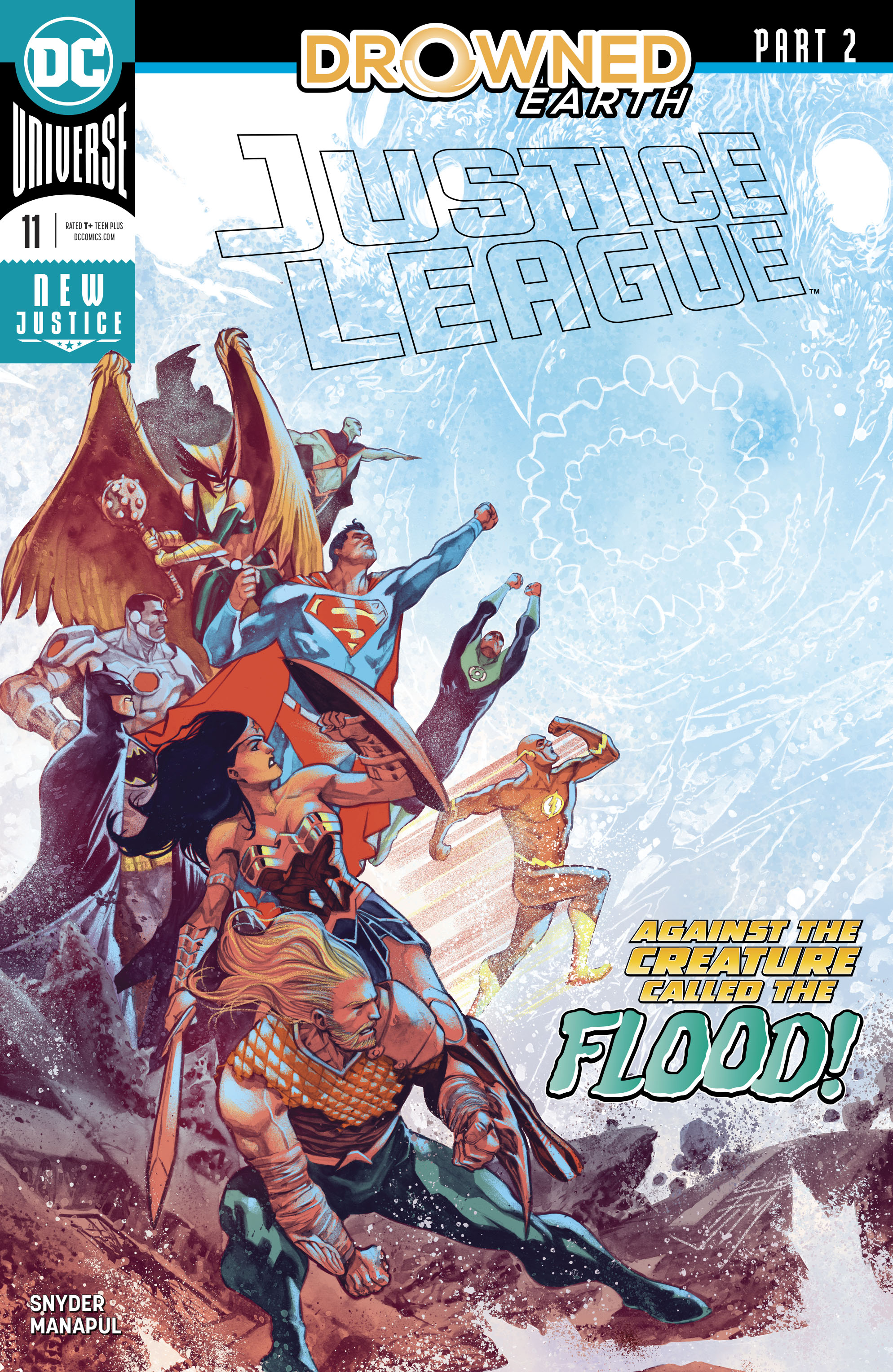 Drowned Earth Part 2 continues right from the previous issue, Aquaman/Justice League: Drowned Earth #1. The stakes have already been raised with much of the Earth underwater, Superman injured, Black Manta having Aquaman's powers, and the general tone that the Ocean God's are winning this battle. This issue basically just continues all these threads and moves them forward (slowly).
The Story
This story revolves around three storylines. Batman is currently trapped in The Hall of Justice, trying to coordinate what is happening in the outside world. Everything outside of the hall is flooded, and the base is one of few refuges left on the planet. Wonder Woman saves Aquaman from certain death and they go looking for the dead god Poseidon. Flash, Mera, and Superman are looking for a great weapon that belonged to Arion, an old Atlantian of great myth and regard. As this is just part two of the crossover, none of these threads are completely resolved and each one raises the danger level of the threat in time for the next issue.

Tim's Thoughts
As I stated in my review of part one, I feel that we have an interesting story, told in a way that drags it all down. Scott Snyder is without a doubt one of the best writers working in mainstream comics today, but even he could not get me interested in this storyline. Much of what happens here feels either redundant or dragged out. I really love the cliffhanger of each storyline, but I felt like the journey towards them was a chore to read. This crossover is full of fat and needs streamlining. Everything is over-explained. I am unsure if this is due to the crossover nature of the material (can't assume readers will pick up supplemental material, so they have to again reiterate everything every single issue). At this point I am ready for Drowned Earth to end, so we can return to the Justice League comics I was enjoying.
If there is one thing this comic has going for it, it is the art. Francis Manapul pulls off a better-looking issue than the last one. The establishing shot of The Graveyard of the Gods is one of the best splash pages I have seen this year. There is just something special about the way he draws and colors everything, that makes everything exciting. Seeing how Manapoul interprets classic characters, we have seen drawn millions of times, is a delight. The art is the main reason to pick up this issue.