We Only Find Them When They're Dead, Issue 1
Written by Al Ewing
Illustrated by Simone Di Meo
with Color Assists by Mariasara Miotti
Lettered by AndWorld Designs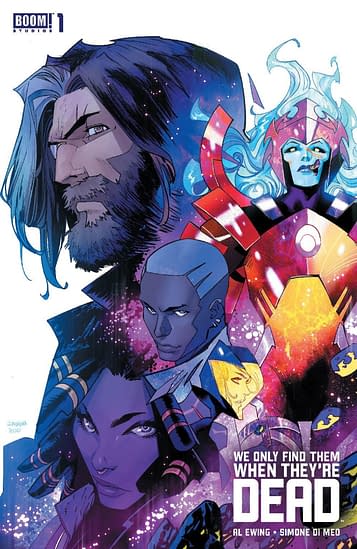 Previously on WOFTWTD
This is a new setting and story, so the only thing you need to know going in is that we're midway through the 23rd century and humanity has flung itself throughout the galaxy in search of all the things we're presently looking for: resources, freedom, and profit.
This Time on WOFTWTD
This first issue is mostly setup for the series to come and as such is a little light on story, mostly hashing out some barebones backstory for the main character and setting. Georges Malik is the captain of an autopsy ship, a type of ship whose purpose is to survey and harvest the organs and other parts of dead gods. These dead gods are immense, moon-sized humanoids complete with armor floating dead in empty space and when one is found, it sets off a rush of autopsy ships, each with a crew intent on staking claim to the best pieces. We learn, rather swiftly, that the larger companies of ships can preemptively claim certain parts and legally force smaller ships away, not to borrow from modern day business practices or anything, and that the government of this future heavily regulates the choicest pieces of the gods and controls what the autopsy ships are allowed to do.
My Thoughts
I was pretty sure I was going to like this based on its premise alone, but in execution I'm surprised by how enthused I am to read the rest. The art is vibrant and gorgeous with very fine outlines that make it feel like the ships and characters could get swallowed by the immensity of space at any moment and despite having an admittedly dark premise, doesn't sacrifice anything in its art style; the characters are all visually distinct from each other and their dialogue hints at their personalities and relationships without distracting from the overall story. The design of the dead gods is also delightfully reminiscent of classic comic book cosmic figures like Marvel Comics' Celestials. All in all, this feels unlike anything I've read so far and I am thrilled at the prospect of following this series.