A Flicker in the Darkness (Knights of the Golden Sun #3 Comic Review)
Knights of the Golden Sun #3 Review
Writer: Mark London
Artist: Mauricio Villarreal
Letters: Andrew S. Zea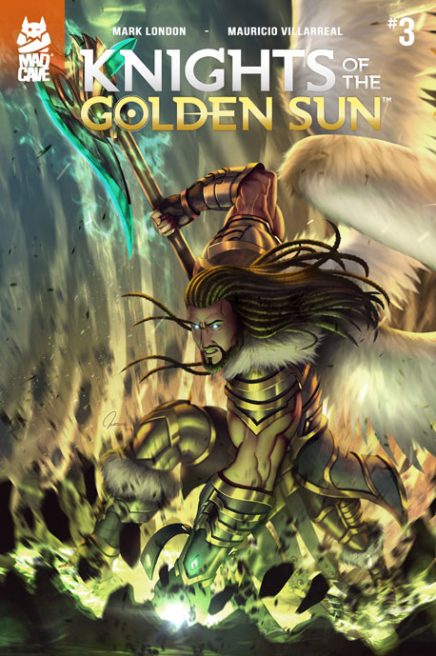 Summary
The issue opens with Raphael participating in the Lamian War, a civil war and revolt that broke out following the death of Alexander of Macedon (seen last issue and in real life). We see that Raphael is not however a soldier merely for war itself, but is watching over an elderly woman named Miriam whom he made a promise too, likely seven years ago when he was struck by Azrael. Following our re-introduction to Raphael we catch up with Uriel who attempts to stop a band of Giants from terrorizing and eating the citizens of Pella, and does so rather successfully until her Spear of Light fails her. She is incapacitated by the giant and we leave her and enter hell as they begin to debate what to with her.
Meanwhile in Hell, Sandalphon rushes the injured Azrael to safety, and we are revealed more pieces of her plan to take over Providence. After a brief dispute with her co-conspirator Azrael reveals rows and rows of what appear to be corpses covered in sheets, and implies some future use for them. The issue continues onto the trio of Gabrielle, Shammah, and Michael who seems to be regaining some of his memories following his liberation from Azrael. The issue closes revealing to us just what Lucifer, or Lucian as he is now called has been up to these last 7 years.
Thoughts
I wouldn't say this is a noticeable drop from the first two issues but issue 3 definitely feels different. It could just be that the first two issues seemed faster in an effort to draw in readers and establish this world, and it's fair the the 'middle' of the story constitute the longest portion. The angels and fallen alike continue to be illustrate with a kind of power, and seeing Uriel wage her solo war to protect humanity was great, even if the end result was her feeling more abandoned than ever. The issue was hurt by the story jumping around between four separate groups of characters rather than focusing in one one or two. Regardless the book still holds my interest and I look forward to seeing just what Azrael's plan involves.